Home

Humanist Association
of Las Vegas and Southern Nevada



HALVASON
a chapter of the
American Humanist Association

is a nonprofit educational organization whose main purpose is to promote humanism as a viable alternative to supernatural and theistic belief systems. We serve as a forum for humanists, atheists, agnostics, freethinkers and other like-minded individuals in the Las Vegas area. We promote the Jeffersonian principle of separation of religion and government, the rights of nonreligious people in our society, free inquiry and thought, a naturalistic view of the universe and a reason-based, secular ethical system. Our membership is open to all like-minded people without regard to race, age, gender, sexual orientation, physical disability, political or other affiliations.
o- - - - - - -o


APRIL 2014 CALENDAR


HALVASON Membership Meeting
When
-
Sunday,

April 20,

2014 at
1:30 PM -- NEW TIME!
Where
-
OUR NEW HOME!
Springs Preserve Partnership Room (aka Banquet Room)
333 S. Valley View Blvd., Las Vegas
What
-
Raul Martinez discussing LABELS: Agnostic,
Free
-

Thinker,
Skeptic, Non-Believer,
Secular Humanist.
What we call ourselves: does it matter?
AND...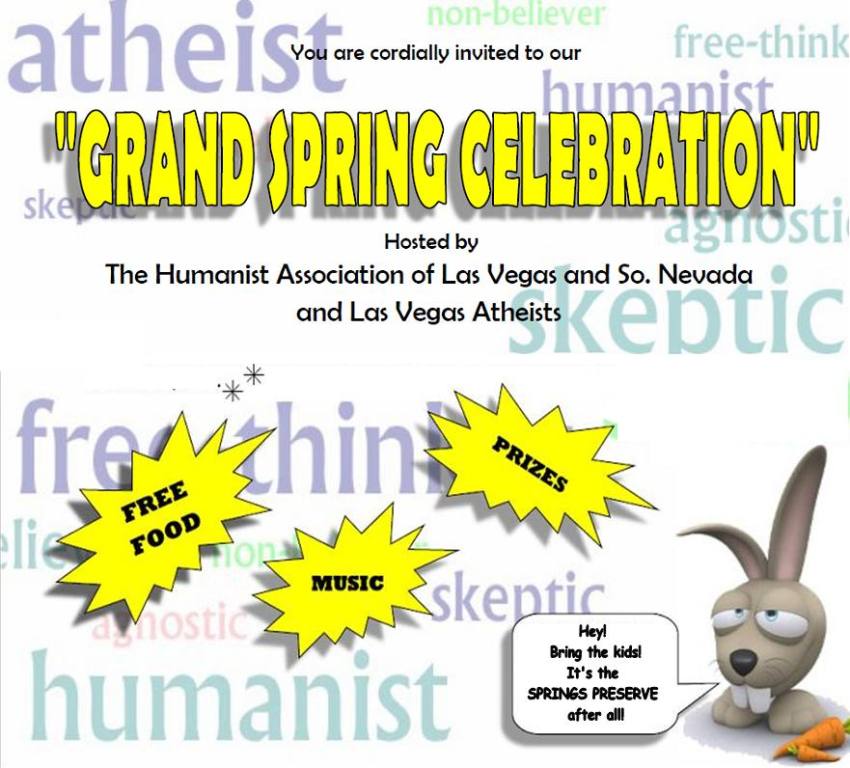 We're trying a new meeting format:
Highly dynamic
Multiple guest speakers
Games & Prizes
Musical performance by Jefferson Montoya
Family fiendly--bring the kids!

Please join us for some song, camaraderie and fun as we celebrate our new venue in the company of friends. Stay afterwards for lunch and drinks provided courtesy of Lucretia Sparks.
...........................................................................
For other meetings in the Las Vegas area of interest to non-theists, please visit the

Las

Vegas Coalition of Reason

website (www.unitedcor.org/las-vegas) which has an events calendar listing the activites of all five organized freethought groups in to

wn.